Susanna Clarke – Piranesi
"Exquisite," "Miraculous," "Spellbinding": just some of the adjectives that clutter the cover of this new paperback of Piranesi, Susanna Clarke's much-garlanded second novel from last year. "A dazzling fable about loneliness, imagination and memory," the hyperbole continues in the book's novella-length front matter. It is a confident publisher that can do this; in my experience, such encomia only prejudice a reader against a book, encourage them to look for flaws that bust the consensus. It is a testament to the novel's genuine quality, then, that I find myself unable to offer this revisionist view. I loved Piranesi.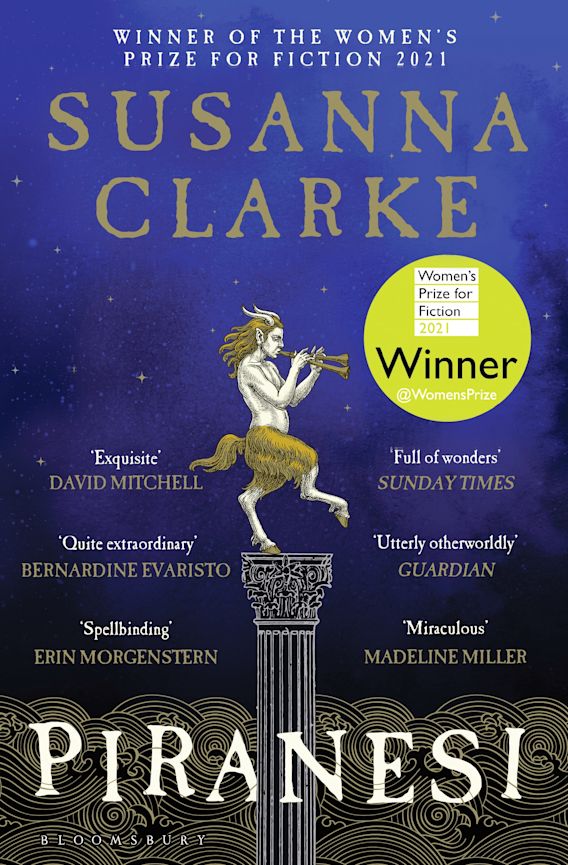 At least, I ended up loving it. For I struggled with its opening chapters. In the first, we are given a tour of the House, the endless suite of statue-filled chambers in which our titular narrator resides, and my frustration here was that Clarke's unquestionable genius for world-building is not matched by her prose, which is flat, plain and repetitive. From page five:
No Hall, no Vestibule, no Staircase, no Passage is without its Statues. In most Halls they cover all the available space, though here and there you will find an Empty Plinth, Niche or Apse, or even a blank space on a Wall otherwise encrusted with Statues. These Absences are as mysterious in their way as the Statues themselves.
No sentence is without its statues either, it would seem, though the real crime here is the fact that adjoining sentences end with the same word. Ear-scraping!
Nor does the repetition please the eye: you skim-read when prose gets repetitive. It was not long, for instance, before I stopped taking in the numbers preceding the House's Halls ("To this end I have travelled as far as the Nine-Hundred-and-Sixtieth Hall to the West, the Eight-Hundred-and-Ninetieth Hall to the North and the Seven-Hundred-and-Sixty-Eighth Hall to the South"); the sentences were becoming too congested otherwise. As for the absurdly long subheadings that appear every few pages or so ("ENTRY FOR THE SEVENTH DAY OF THE FIFTH MONTH IN THE YEAR THE ALBATROSS CAME TO THE SOUTH-WESTERN HALL") – well, I stopped reading these entirely.
I did not stop following the story, though, and as soon as I realised that what I was reading was effectively a thriller in disguise, then I gave up worrying about the language and allowed myself to get lost in the generic pleasures of the narrative. On which level, even the repetition makes sense: you may detect from those subheadings, for instance, that the novel is structured as a series of diary entries, albeit ones which do not conform to a familiar calendar. This is because Piranesi is a "Child of the House," not seeming to have known a life outside its Halls or beyond his humble regime of fishing, diary-writing and weather-reading.
This last task Piranesi does on behalf of the "Other," the only other living human in the House. Yet there their resemblance to Adam and Eve ends, for, unlike our guileless narrator, the Other is full of guile, manipulating our man into doing his dirty work and gaslighting him when Piranesi "wonder[s] why it is that the House gives a greater variety of objects to the Other than to me, providing him with sleeping bags, shoes, plastic bowls, cheese sandwiches, notebooks, slices of Christmas cake etc., etc.,, whereas me it mostly gives fish." It's a fair question, and we find ourselves asking similar ones when we see the Other "tapping at one of his shining devices." Maybe the House isn't the only world, after all; maybe the world as we know it isn't so far off…
To say more would spoil things, though it's not as if the gaslighting/amnesia tropes Clarke draws on will be new to you. What will be new to you is the novel's portrayal of innocence. Because innocence is usually annoying, right? (Holden Caulfield I'm looking at you!) Or at least uninteresting. But Piranesi is neither of these things. He's thoroughly interesting – and funny. Upon finding litter, for example, he responds with this peremptory delight: "I do not know who it was that ate all the crisps and the fish fingers and the sausage rolls, but I cannot help wishing that he or she had been more tidy!" Which brings me to another of his charms: his environmentalism. This is totally instinctive in Piranesi; he does not need the threat of climate emergency to make him care. Even the ugliest of the statues he loves: "Their Beauty soothed me and took me out of Myself; their noble expressions reminded me of all that is good in the World."
Can the same be said of Piranesi? I think so. As long as you remember it's a story, not a style guide, then I think you will be completely taken out of yourself. I was.
Piranesi is published by Bloomsbury and is available here.