It is a rare book that can make me laugh out loud, but Mrs Palfrey at the Claremont managed it – many, many times. A testament to Elizabeth Taylor's skill as a humourist: her novel turns fifty this year and yet nearly all of its jokes still land. Just as well, too, because the book is also desperately sad and would have been quite unbearable had it not been so funny.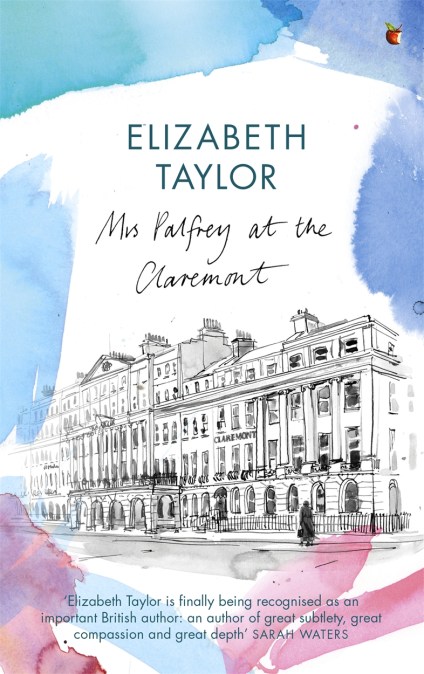 The title sums up the plot nicely. It's about an elderly widow, Mrs Laura Palfrey, who goes to live at a faded hotel in Kensington, the Claremont. Within a few pages of her arrival, it becomes clear that Mrs Palfrey's status is not unique among the hotel's clientele: they are all elderly widows. For these people, the most valuable currency is company, and they cling to those few occasions when dutiful family members pay them a visit or take them out for the day – as much for the social cachet these confer as for the company itself. Mrs Palfrey, however, is a little short on family; her only relation in London is her grandson Desmond, with whom she is not particularly close. All the same, she expects Desmond will at least be decent enough to pay her a visit and, when pressed by the other guests at the Claremont, tells them as much. Desmond is not decent enough, however, and when he doesn't show, Mrs Palfrey's loneliness becomes highly conspicuous.
An opportunity to save face arises, though, when Mrs Palfrey falls down on the street and is helped up by a young man called Ludovic Myers. Ludo is a young, out of work writer in desperate need of a hot meal and, to thank him for helping her, Mrs Palfrey invites him to dine at the Claremont. Boasting to her fellow residents that she is expecting company that evening, one of them asks if it is Desmond she is expecting and, for whatever reason, she doesn't deny it. Thus begins an elaborate deception whereby Ludo pretends to be Desmond, out of which a genuine friendship develops between the young man and the old lady.
At least, the friendship seems genuine; yet there is always that transactional element to it. Both, after all, are gaining something from each other's company: Ludo is getting money, meals and material for his novel; Mrs Palfrey is gaining social esteem. At other times, though, their friendship seems a little too genuine: during one of their meals, Ludo coyly pops a biscuit into Mrs Palfrey's mouth and the pair lean towards each other "like lovers." Interestingly, this book came out in the same year as that great film Harold & Maude (1971), also about a relationship between a very young man and a very old woman. Taylor does not take things quite as far as that film does, however, and Mrs Palfrey wisely retreats from any latent sexual feelings she may have for Ludo:
He was almost beautiful, she thought, and the idea so alarmed her that her glance flew away from his face and fastened on one of his shoes, as it swung back and forth, the thin sole flapping.
You could say that Taylor's glance flies from such thoughts, too, though that is not a criticism. By avoiding the characters' true feelings for one another, she cleverly keeps this central relationship murky and ambiguous, and stops it straying into the saccharine territory it could so easily have entered.
I love the fact that Ludo is "almost beautiful" as well, as if Taylor can't quite bring herself to fully beautify any of her creations. She is far more interested in ugliness; like Ludo's shoes, nearly everything in the book is broken or disfigured in some way, including the people. Therein lies much of the novel's humour. For instance: "[Mrs Burton's] face had really gone to pieces – with pouches and dewlaps and deep ravines, as if a landslide had happened." Or Mrs Palfrey herself:
She was a tall woman with big bones and a noble face, dark eyebrows and a neatly folded jowl. She would have made a distinguished-looking man and, sometimes, wearing evening dress, looked like some famous general in drag.
The environment, too, is consistently grey and depressed, the novel's young characters permanently poor and hungry. It's a pretty bleak portrait of late sixties/early seventies Britain, and were it not for a few very passing mentions of long-haired youths and the Beatles, you would be forgiven for thinking the sexual revolution had never happened at all.
The Britain that Taylor presents instead is one that is clearly feeling the loss of its empire. Thus Mrs Palfrey's comparison to a general is no accident; the book is replete with old military men, on the verge of extinction now there are no colonies to govern. Mrs Palfrey herself, we learn, was the husband of a British governor to Burma and she still reminisces fondly about those days when "nearly all the world was pink on her school atlas – 'ours', in fact." As well as being a fantastically entertaining novel, then, Mrs Palfrey at the Claremont is also a fascinating historical document: of Britain's wilderness years after empire and why, in 1975, the country tried to anchor itself again by joining the European Union. For my money, it also offers one of the most astute explanations as to why that anchor never really took and why, in 2016, it came loose altogether:
When she was young, [Mrs Palfrey] had had an image of herself to present to her new husband, whom she admired; then to herself, thirdly to the natives (I am an Englishwoman). Now, no one reflected the image of herself, and it seemed diminished: it had lost two-thirds of its erstwhile value (no husband, no natives).
The British obviously never got over that last devaluation, did they?
Mrs Palfrey at the Claremont is published by Virago and is available here.