Critics among you: kindly refrain from using the term "climate fiction". (And don't abbreviate it to "cli-fi", either – that's even worse.) For one thing, climate change is not a fiction, and for the sake of the deniers out there I think we have a duty to keep the two words as far apart as possible. Secondly, it does a great disservice to a novel like The High House, whose scarily convincing account of climate catastrophe suggests that author Jessie Greengrass may have a future in climatology if the fiction doesn't work out. On the strength of this book, however, I suspect the fiction will work out.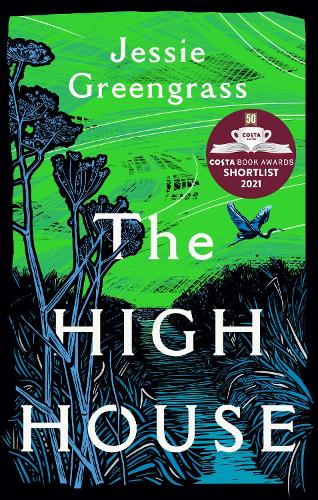 The novel's prologue, titled "Sally", begins after the disaster, with the titular narrator living a hand-to-mouth existence in a house just above the new waterline:
From here I can see what is left of Grandy's cottage, and below the half-gone pub, the village green. The rusting arc of the swing frame rises like a monument. Each year, between water and neglect, less and less of the village remains.
Sally is not alone, we learn – half-siblings "Pauly and Caro are upstairs" – and although things are hard for them at "the high house," Greengrass' ritualistic present tense implies that they are adjusting: "In the morning, I wake earlier than the others. I climb out of bed in my jumper and my socks and I pull on my dressing gown, and after it my leggings and my boots." There is clearly comfort in routine – and danger. In the next chapter, titled "Caro" and told from that character's perspective, Caro reflects on life before the floods, and it becomes clear that routine was how this all came about in the first place: the notion that "[t]he unexalted, tedious familiarity of our daily lives would keep us safe" meaning people kept on polluting.
This back-and-forth structure is nascent in the prologue's punctuation. Observe the commas in this sentence from paragraph one; how they focus attention on the adverb and stall our reading: "My boots are beginning to go at the heels, now, but I am trying to get this last winter out of them." Now, in the next paragraph, observe the comma at the end of these two sentences; how it sidelines the adverb: "I pour the last of yesterday's well water into the kettle and set it to boil, put dried mint leaves in a mug, make tea. I would have had coffee, once." This is how past and present are experienced by the occupants of the high house: the grimness of their current circumstances intruding on their every thought; the memory of their pre-flood lives growing more distant and fairy tale. It's an ingenious use of punctuation, and Greengrass knows it: she will encase an adverb at the slightest opportunity. Yet the device never fails to have the desired effect, and I have to say it is thrilling to see our smallest units of ink being put to such original use.
For the most part, I feel the same way about the novel's structure. Greengrass' realist approach to climate crisis does not lend itself to drama – the setting is England, so there are no hurricanes or tsunamis – yet by shifting perspective, jumping between past and present and breaking up her chapters into very small sections, Greengrass manages to wring a surprising amount of tension out of what are essentially "incremental alteration[s]" in weather. This fragmented architecture serves her characters well too, withholding Sally's first proper encounter with Pauly and Caro until the midpoint so that we get to watch them grow up independently of one another. This is important. The children of absent parents, Pauly and Caro have a very strong, almost symbiotic bond ("The world with just the two of us in it was very small but it was easy"); Pauly is often to be found "curled" up in his big sister's lap, his body perfectly tessellated with hers. Sally's intrusion, then, inevitably causes ructions.
The intensity of this Pauly-Caro relationship reminded me a lot of the sisters in Marilynne Robinson's Housekeeping, another novel in which water plays a starring role. Where Housekeeping turns increasingly metaphysical, however, The High House moves the other way, towards realism – and not always for the better. The mystery of the house itself, for instance – of how it has managed to keep its occupants safe where so many have perished – is punctured when we learn that it was simply well stocked with food. Nor am I convinced by the overlapping viewpoints in these latter chapters, whereby we see the same events from each character's perspective. That said, I like how short these chapters become, as if our survivors cannot even afford to waste words anymore. For me, and other readers I imagine, this is The High House's most persuasive argument for environmentalism: the idea that if climate change reduces us to survival mode, then art will be the first thing to go.
The High House is published by Swift Press and is available here.