Joshua Cohen – The Netanyahus
Or, to give the novel its full title, The Netanyahus: An Account of a Minor and Ultimately Negligible Episode in the History of a Very Famous Family. That episode, we are told in an afterword, was related to Cohen by the late literary critic Harold Bloom, who, as a young professor at Yale, "was asked to co-ordinate the campus visit of an obscure Israeli historian named Ben-Zion Netanyahu." In Cohen's telling, these facts are recast as follows: it is the winter of 1959-60 in "not-quite-upstate New York," and as the only Jew on the staff of Corbin College, Taxation Studies professor Ruben Blum is asked to assess the application of that same Israeli historian and put him, his wife and their three children (Benjamin among them) up for the night when he comes for interview. They are less than model guests.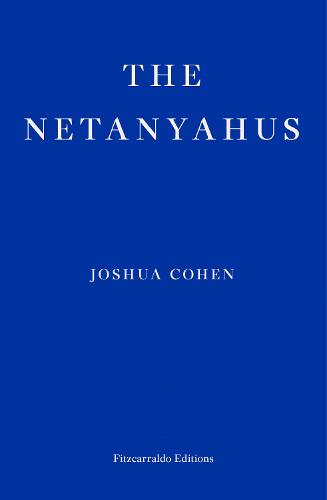 Blum, meanwhile, is having family trouble of his own: intrusive parents-in-law; a dissatisfied wife; and a daughter so self-conscious about her "too long, too big, too bumpy nose" that she contrives to have her grandfather slam a door on it so she can get reconstructive surgery. This last scene is a masterclass in suspense, its climax unfurling with the agonised grace of a Brian de Palma set piece:
"OK, Zeyde," Judy said. "I'm out of the way," but of course she wasn't, she just stayed where she was, kneeling at the door like some meditating monk or imam salaaming on her carpet, her face up close to the knob, and, with an exhalation, merely surrendered her hands to gravity and let her arms drop limply to her sides, so that when my brute father gathered his garment-worker strength and charged the door, the door flew open and its interior knob slammed her nose as if her nose were a spike to be driven through her face.
The novel is full of long sentences like these, though they never feel long: like Philip Roth's, Cohen's sentences are perfectly weighted. In the passage above, however, this facility is disarming, the lack of full stops meaning there is no opportunity to gather oneself before the horror hits. When it did, I actually winced.
Disarming, too, is the novel's humour. Combining the campus comedy of Lucky Jim with the slapstick of the Three Stooges, The Netanyahus leaves no comic convention unturned. This includes toilet humour: a scene in which Blum talks to his mother-in-law (oh yes, there are mother-in-law jokes, too) to the sound of his father-in-law's excretions. These are knowingly hackneyed, I feel, and only get away with it by the quality of Cohen's prose: "From the bathroom came the soft screech of the toilet paper being unwound, the metal dowel spinning in its socket." But why risk cliché at all?
Because it is distracting. Because, as Netanyahu's cartoonishly dilapidated Ford coughs and splutters its way towards Blum's house, you are "almost made [to] forget that its maker was a Nazi." Which is what Blum wants. He wants to forget and he wants to assimilate, confessing to feelings of shame about his Netanyahu-inspired "resurgence of interest in subjects Jewish." Indeed, he only deigns to assess Netanyahu's application when the rest of the house is asleep – as if his Jewishness is a dirty secret: "It was during those hours that I'd put aside my taxes and turn to the Jews. That's what I'd say – I'd get up from my desk and stretch and say, "Time for the Jews"." See, even when he's alone, Blum is cracking jokes. Comedy is how he copes.
It is not the same for everyone. We know this because in chapters three and five (of twelve) we actually get to escape Blum's perspective courtesy of two letters of recommendation by ex-colleagues of Netanyahu – and these are not comic at all. This makes the first of these letters – a hagiography of Netanyahu – admittedly rather a chore; but this is redeemed by the second letter, whose claims that Netanyahu is not only unpleasant, but a terrorist leave us not knowing what to think about the man. "I hope for your sake that the Netanyahu you meet will be another Netanyahu," concludes this second correspondent. "I hope that he will genuinely be another, bearing no resemblance to the man I have described."
We are made to wait to find out; Netanyahu does not turn up until more than halfway through the novel. When at last he does, though, it quickly becomes clear which letter was more accurate:
He was about fifty years old then, his face a tough nut of vaguely Mongol features, tiny olive pit eyes and absolutely enormous and fleshy oyster-shell ears, strong nasolabial folds that I'm not going to call "smile lines" or "laugh lines", because the mouth itself was humorless, tightlipped.
The opposite of Blum, in other words. As for the children that pile out of the Ford behind their father, Yoni, Bibi, and Iddy – well, they are not much better. For one thing, they are uninvited, the babysitter having cancelled for reasons Ben-Zion and his wife Tzila suspiciously cannot agree on. For another, they are absolute horrors, trashing just about every trapping of middle-class America that Blum has filled his house with – including the new colour TV. And in fact they are not unlike TV characters themselves: "if the scene were any more animated, little dizzy cartoon birds would've flown around their heads in haloes."
That Blum can joke about them in this way, though, suggests that they are assimilable. Ben-Zion, on the other hand, Blum cannot find the humour in – perhaps because he is so anti-assimilation. "What was true for Europe at the emergence of Zionism," Ben-Zion says towards the end of his rather abstruse lecture on the history of Jews in Iberia,
will one day be true for America too, once assimilation is revealed as a fraud, or once it's revealed that the country contains nothing to assimilate to – no core, no connate heart – not just for the Jews, but for everyone.
"This, at least, was his implication, the text behind the text of his lecture," Blum reveals in the next sentence, again casting doubt on everything that has come before. Trust nothing in this novel.
Nothing, that is, except its quality. Maybe I haven't got this across. I loved The Netanyahus. Difficult, hilarious and obscenely well-written, it is a novel that stretches the mind and tickles the funny bone, and it confirms Cohen's place among the first rank of contemporary American novelists. Not so minor and negligible after all, then.
The Netanyahus is published by Fitzcarraldo and is available here.